Activities
SALCOMBE GIN SCHOOL
LEARN THE ART OF DISTILLATION – At Salcombe Distilling Co.'s outstanding distilling laboratory for adults, you can take charge of a beautiful mini copper pot still to develop and distil your very own 70cl bottle of gin. Learn about how we produce Salcombe Gin and what it takes to produce a well balanced and harmonious gin whilst enjoying a 'Salcombe & Tonic'.
CREATE & DEVELOP – Create your own gin recipe by choosing from our extensive range of citrus, herbal, floral and spice botanicals or get imaginative and experiment by bringing your own. Our expert distillers will guide you throughout the process including when to make those all important cuts which will influence your spirit's flavour.
PERSONALISE & TASTE – During distillation you will sample and name your unique creation before bottling your gin and placing it in a presentation box with a personalised bottle label. Your experience will conclude in our waterside bar, enjoying an additional measure of your gin with a choice of garnishes and tonics to complement your recipe.
BOOKING & AVAILABILITY – Gin School lessons are typically available on Wednesday, Thursday, Friday and Saturday afternoons at 2pm and Saturday mornings at 10am. from 1st January to 3rd March, we will also host Sunday afternoon lessons at 2pm.
Advance booking is essential. Please see the website for more information, frequently asked questions and to book your place.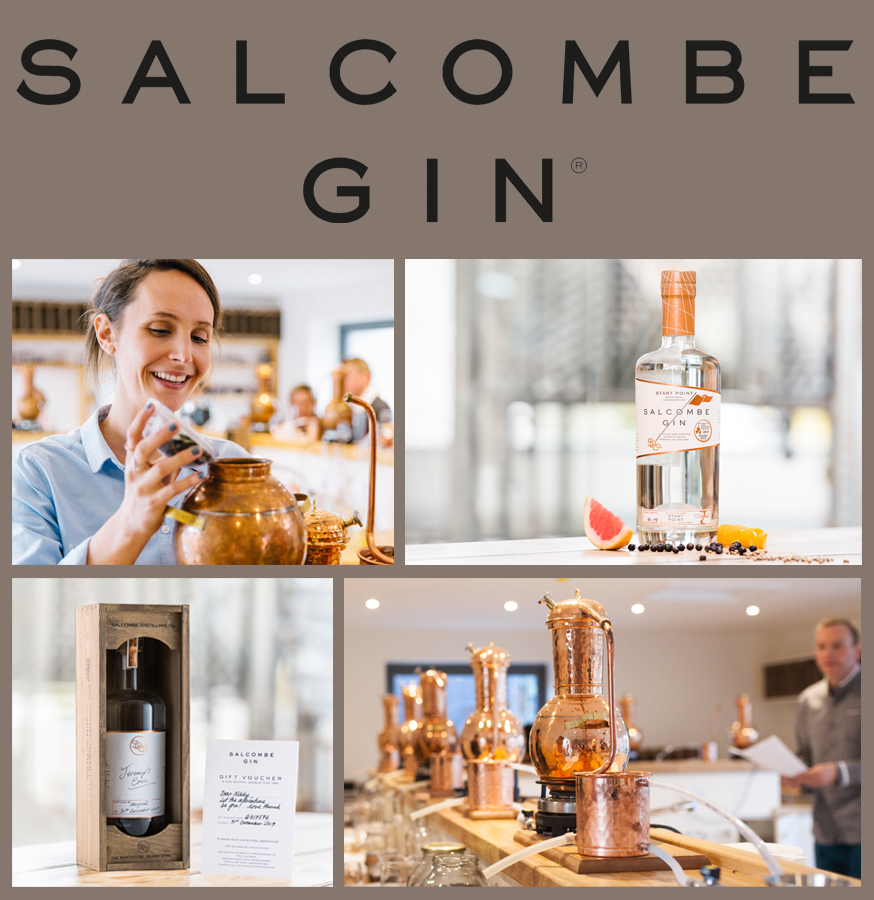 www.salcombegin.com/gin-school
www.salcombegin.com/taster-sessions
Tel: 01548 288 180
Email: ilovegin@salcombegin.com
PADDLE BOARD & BOAT HIRE
Batson Creek Marine, located on Island Street, hire out Whaly 435s.  They are sturdy, roomy, ride the waves well and are used by Search & Rescue crews.
A 14ft boat with a centre console and steering wheel.
Powered by a 15hp four-stroke Yamaha engine with electric start.
Licensed to carry 6 passengers
4 Hour rate:   £100.00
Daily rate:      £135.00 + fuel
Weekly rate:  ​£485.00 + fuel
Paddleboard hire starts from £25.00 for an hour.
Please enquire if you want to hire for the day or longer.
www.batson-creek.com
Tel: 07432 120 140
Email:- chris@batson-creek.co.uk
SEA KAYAK, SALCOMBE – KAYAK TOUR OPERATOR
Sea Kayak pride themselves on introducing people of all ages to sea kayaking in some of the best paddling environments in the UK, with great Kayaks and comfortable warm personal equipment, join us with confidence with our fully qualified, fun and informative guides.
Many different adventurous routes and durations to suit all abilities. Snacks, hot drinks and photos are included plus an authentic camp lunch for the full day adventures! They also have the ability to travel further to more awesome locations with our Van and Trailer.
With an abundance of Rock Gardens, Gulleys, Caves, Coves, wild life and Secluded beaches to enjoy, you are one step away from booking your next adventure.
www.seakayaksalcombe.co.uk
Tel: 01548 843 451 or 07812 146 353
Email: info@seakayaksalcombe.co.uk
SEA n SHORE
A family run water sports business established from their love of outdoor water based activities and education; whose mission is to be a one stop shop for your boating and hospitality. The customer is Sea n Shore's second priority as safety is always their first. Power Training School, Rib Charters, Wake-board and Water-Ski, Water Sports, Coasteering, Hen and Stag parties and much more.
www.sea-n-shore.com
Tel: 01548-842276 or 07713 745609
Email: ali@sea-n-shore.com
COASTEERING
Coasteering is a unique adventure sport where you experience the exhilaration of sea level traversing, rock climbing, cliff jumping and swimming in to sea caves without the aid of boats, surf boards or other craft.
Coasteering in Salcombe is for half a day and lasts approximately 3 hours. Sessions start at 9.30am or 1.30pm. Location is Start Point Lighthouse carpark,TQ7 2ET, approximately a 45 min drive from Salcombe. You will be asked to make your way there and meet in the carpark. There is a car park charge.
From the Start Point carpark, you will walk for around 30 mins over 4 fields down to the coast path where you will then be instructed into the coasteering activity to then start rock climbing, swimming, exploring caves and gullies and lots and lots of jumps.
Half day sessions are run when there are 8 or more customers, and instructor(s) are available. One instructor for 8 customers and all participants must be able to swim competently and in good health.  It is the law that anyone under the age of 18 years old has to be accompanied on the activity with a parent or guardian. One parent can take up to three children.
www.sea-n-shore.com
Tel: 01548 842 276 or 07713 745 609
Email: ali@sea-n-shore.com
BANANA RIDING, WAKEBOARDING & WATERSKIING
Sea-n-shore hire out a big rib for wake boarding, water skiing and banana riding per hour. This includes up to 10 people, 1 skipper, 1 instructor, and equipment listed on website.  Pick up is in Salcombe and then a 15 min journey out of the harbour to the location. The hour doesn't start until at location.  The logistics of ski lessons is always weather dependent but there is usually a suitable location out of the wind.  When individuals want to ski/wakeboard for the first time allow around half an hour each.
The most common thing Sea n Shore do out of Salcombe is group banana rides and games where the 6 man banana is used with 10 individuals and the hour is divided up equally so everyone has rides and games. Cost is divided between the 10, or however many people there are.
www.sea-n-shore.com
Tel: 01548-842276 or 07713 745609
Email: ali@sea-n-shore.com
SALCOMBE DINGHY SAILING
Sailing is a fantastic and diverse sport, with activities to suit everyone.  The RYA National Sailing Scheme has been designed to help you enjoy whichever aspect of the sport that appeals to you. All the courses in the Scheme can be taken in a dinghy or keelboat so you can have tuition in whatever type of boat you wish.
Salcombe Dinghy Sailing is an RYA accredited Training Centre offering Youth and Adult courses throughout the year.
Learn to Sail
RYA Youth Courses for ages 8 – 15 yrs
Stages 1 – 4
Start Racing
Day Sailing
Seamanship Skills
Sailing with Spinnakers
RYA Adult Courses for ages 16 years +
Level 1,2 & 3
Start Racing
Day Sailing
Seamanship Skills
Sailing with Spinnakers
RYA Keelboat Courses for ages 16 years +
Each RYA Course can be completed in just two days.
For children the course can be arranged over four half days.
Hire A Dinghy
Boat hire brings you freedom and truly special holiday memories of secret coves, seal spotting and slowing down for a while in stunning surroundings. Salcombe Dinghy Sailing have got three types of boats available: Laser Pico's Wayfarers and Drascombe Luggers. All boats are lovingly well-serviced and maintained. They are superbly equipped with buoyancy aids, charts, dry bag(s) and emergency equipment.
Salcombe Dinghy Sailing are on the water all day and will always try to help where possible, even towing to a better sailing area if conditions change.
www.salcombedinghysailing.co.uk
Tel: 07809 556 457 or 01548 843 927
Email: salcombedinghysailing@gmail.com
SINGING PADDLES
Whether it be sit-on-tops, canoes or sea kayaks Singing Paddles offer 2 hour sessions taking tours of the local estuaries in search of local wildlife, learning paddling skills and playing games. When the tide is right, groups can take an evening paddle on the estuary. The trips are ideal for birthdays, staff training, group away days and reunions or just a relaxing day paddling in the sun.
www.singingpaddles.co.uk
Tel: 07754 426 633
Email: singingpaddles@hotmail.co.uk
HIRE A SALCOMBE YAWL
Hire a traditional Salcombe Yawl & explore the beautiful Salcombe estuary.  This Salcombe Yawl is simply rigged with furling jib and ideal for a family or just a couple. The Salcombe Yawl comes complete with aux outboard engine, 10 foot rowing tender, cruising & racing sails, mooring & life jackets.
Sailing tuition also available by the day or half day in a traditional Salcombe Yawl Y27 or just be taken for a leisurely sail around the harbour in safe hands.
For up to 5 people. Moorings available on a weekly basis.
www.yawlandlaunchhiresalcombe.co.uk
Tel: Scratch Hitchen 01548 561 619 or 07966 840 436
Email :- scratchdevon@gmail.com
 
WHITESTRAND BOAT HIRE, MACKREL FISHING
Booking agents for two hour mackerel fishing trips on the skippered boat Illusion. Trips run up to four times per day from Easter through to October half-term.
The maximum number of passengers is 10, so advanced booking is advisable.
Please note all trips are weather dependent and the skipper's decision is final.
www.whitestrandboathire.co.uk
Tel: 01548 843818
Email: info@whitestrandboathire.co.uk
SURFING AT DISCOVERY SURF SCHOOL
Learn to surf at Bigbury On – Sea. Professional coaching for all ages and abilities with an emphasis on safe, high quality tuition in small groups. Guarantee you'll be up and riding in your first lesson!
www.discoverysurf.com
Tel: 07813 639 622
Email: martin@discoverysurf.com
SALCOMBE SEA SCHOOL
This RYA powerboat 2 training course is designed for absolute beginners and existing boat users alike. The RYA Powerboat training level 2 qualification is recognised the world over. Holders of the RYA Powerboat training 2 course certificate can also apply directly for an ICC (International Certificate of Competence) without any additional examination or powerboat training enabling them to hire/helm powerboats abroad. In many countries, is all that is required to allow certificate holders to hire powerboats upto 10m. It is also recognised by most insurance companies, leading to lower premiums, and for some is an absolute requirement to gain insurance cover.
The course is taken over a two day period with a short session in our classroom in Island Street and the majority of time afloat in and around Salcombe Harbour.
www.salcombeseaschool.com
Tel: 07866 180 180
Email: dennis.hobday@salcombeseaschool.com
SALCOMBE POWERBOATS
RYA Powerboat Training Centre
www.salcombepowerboats.co.uk
Tel: 01548 560926
Email: chris@salcombepowerboats.co.uk
GOLF AT THURLESTONE GOLF CLUB
All visitors are given the friendliest of welcomes at Thurlestone Golf Club and strive to give you an excellent golfing experience from the moment you arrive.
As well as the challenging golf course, the Clubhouse is second-to-none with its large main bar as well as a smaller 'spike' bar come television room (Showing Sky Sports). Superb meals are available from 10:00 to 19:00 hours daily in our separate dining-room. Whilst visiting golfers are requested to bring a valid handicap certificate, we will allow all competent players to enjoy our course. If you are in any doubt as to the validity of your certificate please discuss with our golf professional at the time of making your booking.
www.thurlestonegolfclub.co.uk
General Manager Tel: 01548 560405 option 7
Email: manager@thurlestonegolfclub.co.uk
HORSE RIDING AT DITTISCOMBE EQUESTRIAN CENTRE
Riding lessons in Kingsbridge for all abilities and ages, group or private.
An assessment is required for hacking. Only steady hacks offered.
www.dittiscombeequestrian.co.uk
Tel: 01548 581 049
Email: alex.farleigh1@btinternet.com
SALCOMBE TENNIS CLUB
Members only
SALCOMBE ART CLUB EXHIBITION
Salcombe Art Club is a thriving club situated in the heart of Salcombe.
Each year from April to September the Loft Studio is transformed from a working studio running art classes and workshops to an art gallery displaying a wide range of artwork for sale including paintings in oil, acrylic, watercolour and also a great variety of printmaking and sculpture.
All are welcome and admission is free.